Essential items... We all have them. Essential items for work, day to day life and for me it's 10 makeup bag essentials! I wanted to share what is holding a spot in my main makeup bag that I reach for daily! That an I am a sucker for a list! So here we are, My 10 makeup bag essentials!
I am in love with this moisturiser from Origins. The first thing I fell in love with was the smell, It's smells like a spa in a bottle. I'm always trying oil free moisturisers and so far I'm really impressed with this one. Don't let the size of the bottle put you off, You really don't need a lot of this lotion to cover your face, I only use a pea size amount so expect it to last me some time!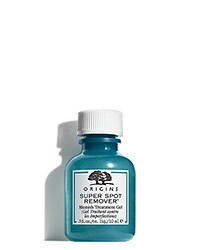 I have tried so many products that promise to banish spots, reduce the redness caused by breakouts and basically work miracles. This tiny bottle has left me impressed and it now comes everywhere with me. The Origin website says : "

Battle breakouts fast! Just a dab of blemish-busting Salicylic Acid instantly helps speed healing. While anti-spot technology helps visibly correct lingering discolouration. Skin-calming Red Algae helps visibly relieve redness. And to help skin stay spotless, super exfoliators eliminate excess oils and pore-clogging debris." I can honestly say that if I feel a spot appearing I just dab the tiniest amount of the gel on it and it either doesn't appear or my reoccurring spots that I always complain about are half the size. I prefer this to other spot treatments as it doesn't just smell like a concoction of chemicals, Other products I have used have literally made my eyes water.
NYX - Total Control Drop Foundation
I am super fussy with my foundations, I like a high coverage to help cover my scarring and uneven skin tone without feeling like my skin is being suffocated and looking cakey. You can adjust the coverage of
this foundation which I love, You just add more drops and you don't have to worry about this foundation becoming cakey. It actually feels like you have nothing on your skin. Another thing I love is the price, It's only £14.00! I have paid more for crappy powders than this amazing foundation costs.
Jouer - Long Wear Lip Creme - Snap Dragon
This was one of the first Jouer items I tried. It wasn't my usual colour I would go for either but I love it. It doesn't feel overly dry on my lips, It doesn't require much touch ups and even though it was part of their fall 17 collection this colour can be used years round and receives lots of compliments.
MAC - Blot Powder
I have used this powder for years, I have tried others but I always gravitate back to this powder. It's great for us oily skin gals, It doesn't add too much colour to your skin. I use it maybe twice a day and it lasts me well over 6 months. Another thing is that this powder doesn't settle into any of my breakouts. There is nothing worse when a powder clogs around any drier spots on your face and just draws attention to them. I always have this in my handbag when I'm out & about.
MAC - Fluidline
I really don't get on with pen style eyeliners, I just really suck at using them! I started using fluidline a few years ago and find this gel eyeliner in a pot so easy to use, it just glides on, it stays on all day and the little pot lasts forever. I like to use this with my 210 eyeliner brush also from MAC. It provides me with thin enough lines so I can slowly thicken it up if I want to and I find it great for creating my winged eyeliner looks.
BH Cosmetics - First Edition 120 Eyeshadow Palette
This magnificent palette of 120 eye shadows is only £20.00! It has a mix of matte, satin and simmer eye shadows. Don't let the price tag fool you, I nearly didn't purchase this because I thought it would suck being so cheap but I eventually decided to go for it and wouldn't turn back. The pigmentation is good, the range of colours I love and for £20.00 this palette rocked my socks! This could be the perfect gift for anyone you know who loves makeup, if you want to move away from you usual shades of eyeshadow but don't want to spend a fortune experimenting with different colours or even for someone you know who's just started taking an interest in makeup. I always take this on my travels because it's easier to pack the one palette than loads of separate eye shadows or multiple palettes where I'm lucky if I use a handful of colours.
NYX - Colour Correcting Concealer Palette
I have purchased and thrown out so many products that promise to help me with colour correction. I purchased this on a whim. This palette only costs £10.50 and personally I find it works better than other products I have purchased that cost me a lot more. It's helped me conceal my skin when it's been at it's worst. I'm not talking a tiny bit of redness I am speaking a face that resembles a tomato with even worse red lumps and bumps! I also need more help concealing my dark circles that appeared when I became a mum. This product doesn't cling to any lines or dry patches, It's a winner and I would really suggest this palette if you are wanting to give colour correcting a try without it costing you a fortune!
The Ordinary - High Adherence Silicone Primer
You may have heard of the brand The Ordinary. It's been popping up everywhere recently and some of my favourite bloggers had been going on about how great their products are. They are also insanely cheap so I was sceptical. I have actually used this primer and their Niacinamide 10% + Zinc 1% serum (what a mouthful!) for over a month now. So how did I find a primer that costs only £3.90? I love it! I am really fussy with primers, Many just don't work with my oily skin (even the ones that claim to be for us oily skin folks!) and some I find make no difference at all to makeup application. This primer helps smooth my skin so my foundation looks 100 times better and actually I have noticed my makeup lasts longer. I have even used it on my non makeup days for the mattifying effect it has on my skin and have converted my own mother into using the stuff.
NYX - Ombre Blush Mauve Me
I rarely stray from MAC blushers and then I discovered this little beauty. Now I have blush that I like to use for day time and night time but I can use this any time of day. You can use the lighter part nearer your cheek bones and keep the darker colour for the apples of your cheeks or mix both the lighter and darker colour. This colour really works on my pale skin and it stays put all day long I rarely have to touch it up. Not bad for only costing me £9.00!
Just a quick note to let you know that if you order from some of the links on this post that I will receive a small payment, I have not been contacted by the brands to promote these certain products they are items I personally use and love! If you do decide to order using my links it's really appreciated as it helps me keep Liner, Lippy, Life up and running!